Organic Fingered Bass

for Kontakt
a high quality fingered electric bass guitar library
Play Demo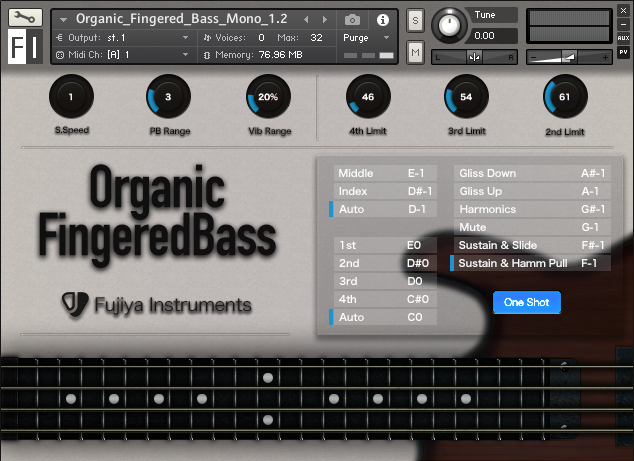 FEATURES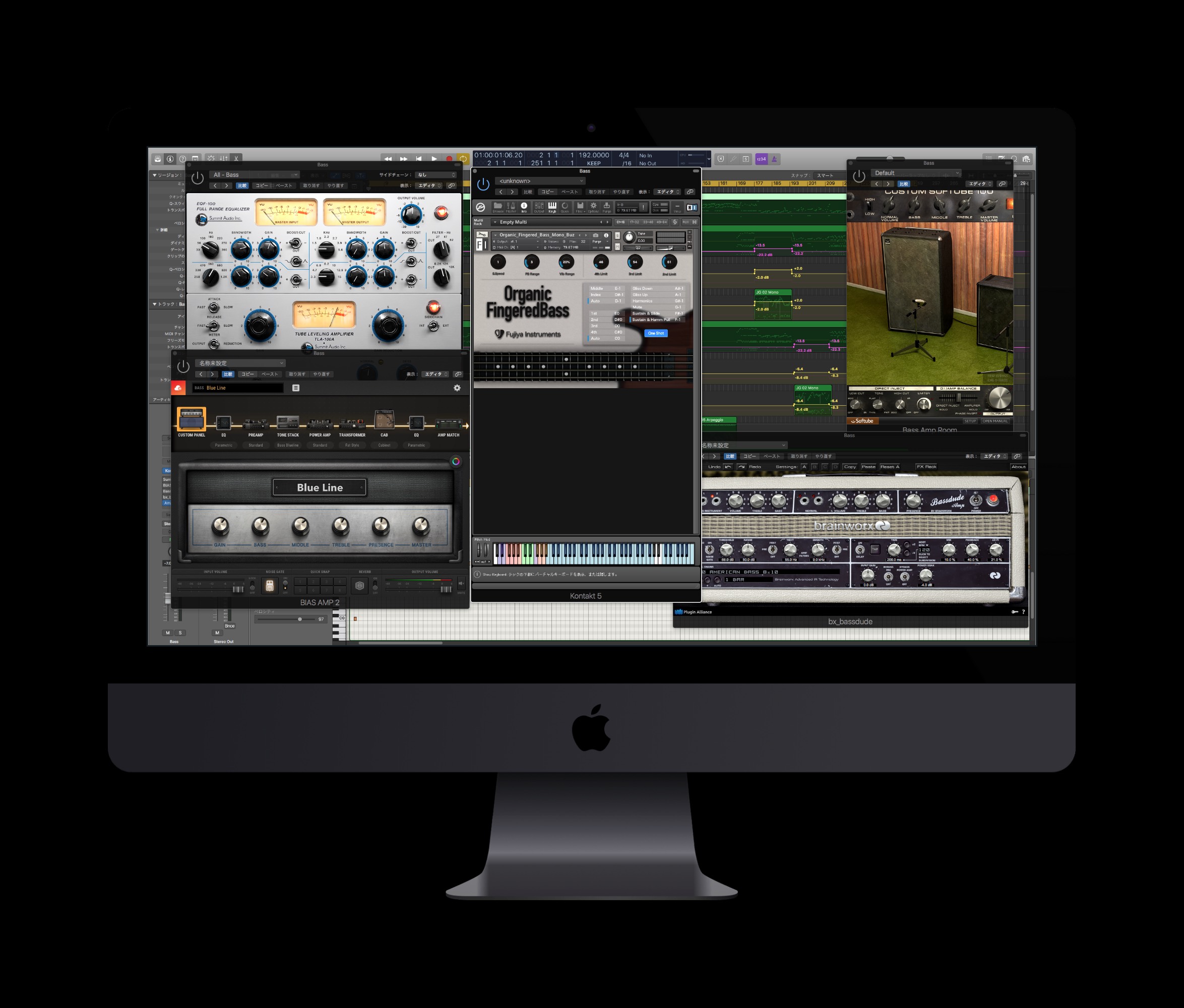 High Quality,
and Reality
Fujiya Instruments Organic Fingered Bass is a high quality sample library for Kontakt.
Many articulations are included.
High-end electric fingered bass sound
Advanced KSP Program
Two patches
Organic Fingered Bass has two patches. One is buzz and the other is normal.
String

selector

Organic Fingered Bass has each strings' samples. You can select a string by keyswitchs or auto select.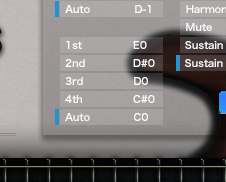 Slide,

Hammer-on

and Pull-off

If you play legato, auto detector selects a suitable sample.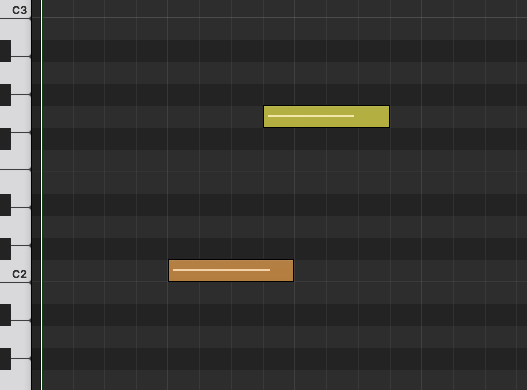 Finger

selector

There are index, middle, alternate.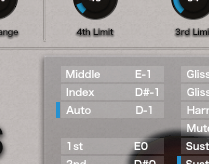 One Shot
If one shot is on, note-off doesn't stop sound. If one shot is off, note-off stops sound.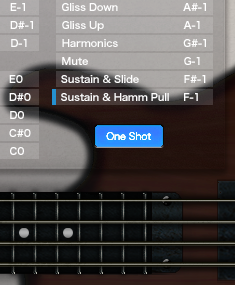 Testimonials
Organic Fingered Bass is highly valued by professionals.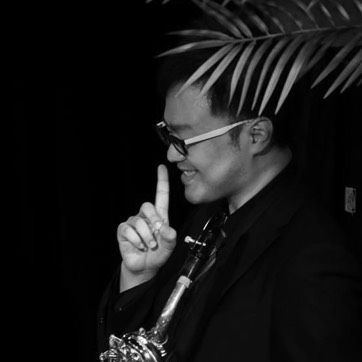 Organic Fingered Bass has very carefully constructed velocity layers. Also, Legato's glissando provides vivid nuances. Since it can be operated with simple operation, the work efficiency is high, and the freshness of the idea can be kept. Because it is very high quality, it has the ability to use creating commercial music and it is also ideal for a demonstration to give to a professional bassist in a recording studio.
Saxophonist, Flute player, Composer, Orchestrator
As a multi-lead player with a focus on saxophone, performing live and recording.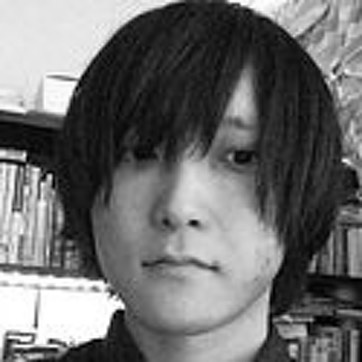 Fujiya Instruments Organic Fingered Bass is natural sounds, convenience, and the operability is better than any bass library to have been using so far. Especially I am delighted with the feature to play automatically with the glissando when I play legato. The script is wonderful. I feel very glad that I cooperated with as a graphic designer.
Composer, Arranger
Representative of AuroraSample
in charge of GUI of Organic Fingered Bass and Slapped Bass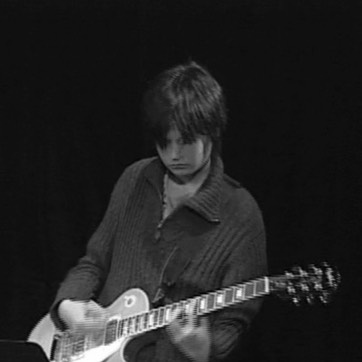 Because the fingered electric bass guitar is a musical instrument with very high use frequency, the high quality but being light touch and being stable are the big advantage of Fujiya Instruments Organic Fingered Bass. Usual patch provides an excellent performance by the even tone. Then, because the Buzz patch is the realistic sound to have contained a lot of buzz of the string. The choice of lyrical bossa nova and an intense rock to have adjusted them to the arrangement of the music is possible. There are two kinds of the speed of the slide and as for the rich glissando, the degree of freedom is high like a just genuine bass. It makes the best sound according to the various tempos and the status. It became one of the libraries which start up first by initiating a new project now. It is the essential best partner of making a music, isn't it?
DETAILS
Category
Virtual electric fingered bass guitar instrument for Kontakt
Instrument
Celinder Aura4
System requirements

Kontakt 5.8 and above
(Kontakt Player does not support this library.)
Amp simulator

Size of samples
5.9GB
Sampling rate
24bit 44.1kHz
Articulation list
Single note sustain(index, middle)/ Single mute(index, middle)/ Single note realtime hammer-on & pull-off/ Single note realtime legato slide/ Natural harmonics/ Glissando(down & up)/ Hand noise/ Hand stop noise
Mode
Velocity layer
4(Max)
MIDI
Yoshimatsu demo